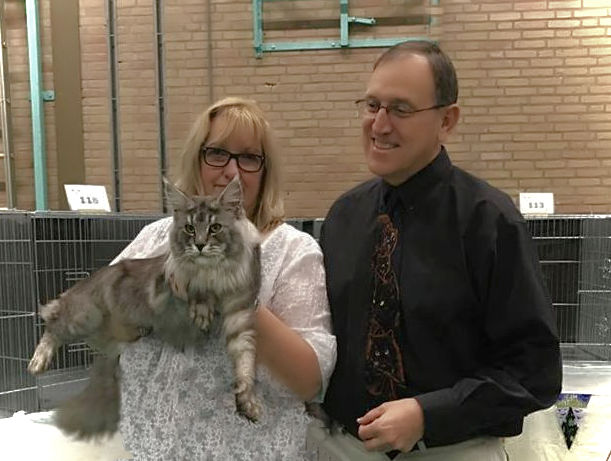 Die TICA showseason 2016/2017 liegt hinter uns und wir sind sehr stolz, dass unser Nachwuchskater SGC Atlantic Acadia's Moonspell als 14th BEST CAT OF THE YEAR 2017 den Titel Regional Winner in der Region Europe North (EN) erringen konnte.
Zugleich ist er in EN die BEST MAINE COON OF THE YEAR,  8th BEST LONGHAIR CAT OF THE YEAR sowie 2nd BEST BLACK SILVER TICKED TABBY MAINE COON OF THE YEAR.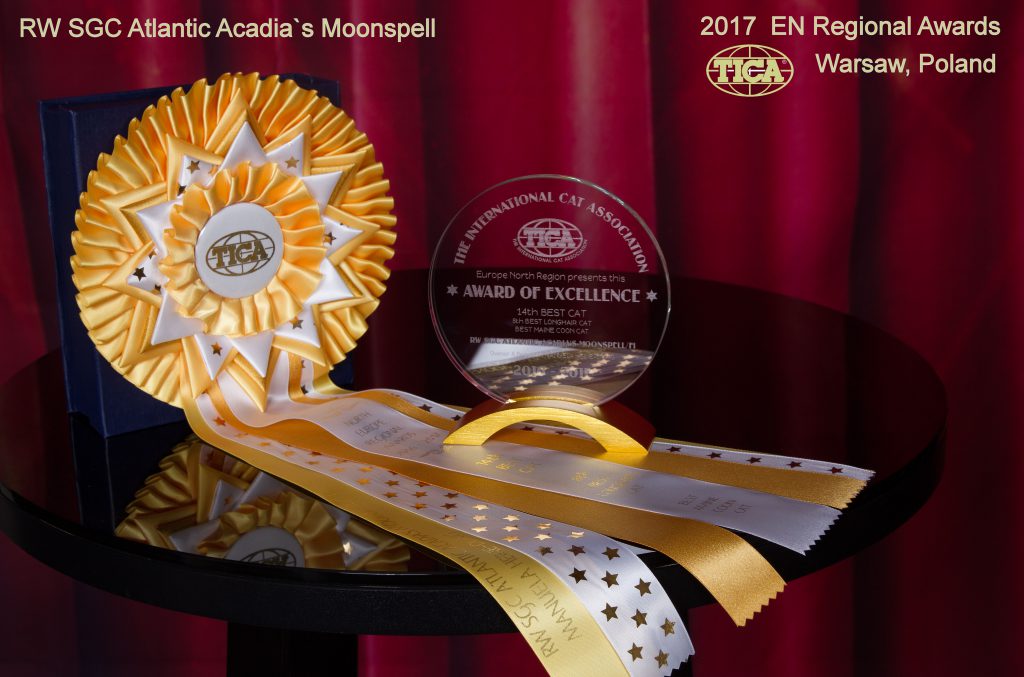 Es war eine bemerkenswerte Reise, die Moonspell und mich zu vielen shows in Deutschland, in die Niederlande, nach Ungarn, Polen, Russland, Italien und Belgien führte. Moonspell war mein treuer Begleiter im Auto und im Flieger, immer gut gelaunt und entspannt.
Bei der TICAshow von Cats and Tulips in den Niederlanden Ende 2016 war er an beiden Tagen Best Cat im All Breed ring bei Fate Mays, president of TICA`s  und wurde Supreme Grand Champion, ein sehr berührender Moment.
Vielen Dank an alle Richter, die meinen Moonspell in ihre finals nahmen und ebenso an die clubs für ihre Ausstellungen!
Und natürlich an all meine fellow breeder für ihre Unterstützung und ihr Vertrauen, ihre Freundschaft und für all den Spaß, den wir miteinander hatten! You know, who you are and we will meet again.
Es gibt weitere gute Nachrichten:
Atlantic Acadia's Jimmy White Feed of Vademar Coons erreichte in Prag den Supreme Grand Champion Titel und wurde in der Region Europe South bereits zum zweitenmal Regional Winner, herzlichen Glückwunsch an Anna und Francesco!
Auch Atlantic Acada`s Rainbow River of Cieloch wurde Supreme Grand Champion und Regional Winner in der International Region, herzlichen Glückwunsch an Lin Mao!